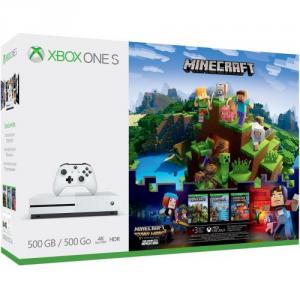 Microsoft Xbox One S Minecraft Complete Adventure Bundle (500GB)
BRAND NEW - FULL WARRANTY
antonline is an authorized Microsoft partner.
FREE SHIPPING Processing & packing takes 1 Business day prior to ship.
Bundle includes:
Xbox One S 500GB Console
Xbox Wireless Controller
Full game download of Minecraft, Minecraft Explorers Pack, and Minecraft: Story Mode Season 1 - The Complete Adventures (Episodes 1-8)
3-month Xbox Live Gold membership
Play Minecraft with friends across Windows 10, mobile, and console 4K Ultra HD Blu-ray, 4K video streaming, High Dynamic Range, premium audio
1-month Xbox Game Pass with access to 100+ games
The best value in games and entertainment

Xbox One S has over 100 exclusive games, built-in 4K Ultra HD Blu-ray player, and 4K video streaming.

Create, explore, and survive in your own Minecraft adventure

Be part of the worldwide phenomenon with the Xbox One S Minecraft Complete Adventure Bundle, featuring Minecraft: Story Mode - The Complete Adventure, an episodic point-and-click adventure game. Whether you're playing Minecraft, watching movies, or streaming gameplay, Xbox One S delivers brilliant graphics with HDR technology, premium audio, and the best community of gamers. Join the online community of Minecraft builders and fans with three months of Xbox Live Gold, and build, dig, and craft with friends on PC, mobile, virtual reality, and console with the Better Together update. There's never been a better time to game with Xbox One.

The largest and most diverse game lineup for Xbox One

Play console exclusives like Forza Motorsport 7, Crackdown 3, and State of Decay , plus blockbusters like FIFA 18, Madden NFL 18, and Minecraft.

High Dynamic Range

Experience richer, more luminous colors in games like Forza Motorsport 7 and Middle-earth: Shadow of War. With a higher contrast ratio between lights and darks, High Dynamic Range technology brings out the true visual depth of your games.

4K Ultra HD Blu-ray and video streaming

With four times the resolution of Full HD, 4K Ultra HD delivers the clearest, most realistic video possible. Xbox One S lets you stream 4K content on Netflix and Amazon, and watch Ultra HD Blu-ray movies in stunning visual fidelity with High Dynamic Range. Enjoy your favorite apps like YouTube, HBO GO, Pandora, and ESPN. And experience premium Dolby Atmos and DTS:X audio.

The most advanced multiplayer network

Find friends, rivals, and teammates in the best global gaming community. Dedicated Xbox Live servers maximize performance by ensuring stability, speed, and reliability. Compete, connect, and share across platforms with gamers on Xbox One and Windows 10. And get 2-4 bonus games each month with Xbox Live Gold.

Play popular Xbox 360 games and enjoy exclusive offers


Relive your favorite game franchises from the beginning and across generations with Xbox One backward compatibility. Xbox Game Pass gives you unlimited access to over 100 great Xbox One and Xbox 360 titles. Enjoy the freedom of Xbox Play Anywhere games on both Xbox One and Windows 10 PCs at no additional cost. All Xbox One games and accessories work with Xbox One S.

Better together

Minecraft is a game about placing blocks and going on adventures. Build anything you can imagine with unlimited resources in Creative mode, or go on grand expeditions in Survival, journeying across mysterious lands and into the depths of your own infinite worlds. Will you hide from monsters or craft tools, armor, and weapons to fight back? No need to go alone. Share the adventure with friends in split-screen multiplayer and online.

ManufacturerMicrosoftManufacturer Part NumberZQ9-00288Manufacturer Website Addresshttp://www.microsoft.comBrand NameMicrosoftProduct ModelZQ9-00288Product NameMicrosoft Xbox One S Minecraft Complete Adventure Bundle (500GB)Product TypeGaming ConsoleProcessor & ChipsetProcessor ManufacturerAMDProcessor CoreOcta-core (8 Core)MemoryStandard Memory8 GBDisplay & GraphicsGraphics Controller ManufacturerAMDGraphics Controller ModelRadeon Graphics Core NextGraphics Processor Speed853 MHzGraphics Memory Capacity32 MBGraphics Memory TechnologyESRAMMaximum Resolution3840 x 2160Color Depth36-bitVideoScanning ModesProgressive ScanAspect Ratio16:9Scan Format2160pAudioAudio FormatsMP3 WMA WAVNetwork & CommunicationEthernetYesEthernet TechnologyGigabit EthernetWireless LANYesWireless LAN StandardIEEE 802.11nStorageHard Drive Capacity500 GBOptical Drive TypeBlu-ray Disc PlayerOptical Media SupportedBD-ROM DVD-ROM CD-ROMInput DevicesInput Device TypeGame PadGaming Controller ConnectivityWirelessInterfaces/PortsHDMIYesNetwork (RJ-45)YesInfraredYesUSBYesUSB StandardUSB 3.0Number of Digital Optical Inputs1Power DescriptionInput Voltage230 V ACPower Supply Form FactorInternalPhysical CharacteristicsColorWhiteWeight (Approximate)9.20 lbMiscellaneousPackage ContentsXbox One S 500GB Console Xbox Wireless Controller Full-game download of Minecraft, Explorers Pack, and Minecraft: Story Mode - The Complete Adventure 3-month Xbox Live Gold membership 1-month Xbox Game Pass HDMI cable (4K capable) AC power cable
Please understand , this is only one of over 100,000 products offered for sale by antonline and shipped from our many different automated warehouses. There are no local stores or pick up. All the product information we have is provided by the manufacturer and in the item listing. Manufacturers change colors and item details frequently and often do not update pictures. We have no personal knowledge or experience with this product or ability to customize it. All items ship as addressed in an automated warehouse. The time to process and ship is listed prominently in each listing. It usually takes about a week to get your item. It may be faster or longer as shown in the listing or if credit check or special handling is required. There is no human intervention in the process. That is how we control costs and keep prices are so low. Paypal requires that we only ship to the verified Paypal address provided with the order. NO ADDRESS CHANGE IS POSSIBLE.




Atlanta Network Technologies, Inc.





We accept payment by: Paypal.




Shipping to: United States

Excludes: Alaska/Hawaii, APO/FPO, US Protectorates, PO Box.





Antonline eBay Return Policy

Returning an item purchased from antonline is easy and fully automated with our "Hassle Free Return Program".
Please use the automated link below or email us for and RMA link. You can obtain a return label from us or use your own to return an unwanted product during the return window. Full return terms and conditions are listed below.
http://www.antonline.com/request_rma.php

Item Return Criteria

All returns must include the following:

Original packaging (manufacturer's box, Styrofoam, plastic bags, etc.)
Original intact UPC barcode. Do not cut out the UPC code until you have examined and tested the product to your satisfaction. Removal of the UPC code voids any possibility of return regardless of RMA or credit request status.

Original packing slip. Do not mail or dispose of the packing slip until you have examined and tested the product to your satisfaction.

The return must be complete and include all accessories, Manufacturer documentation (manuals, warranty cards, registration information, etc.)

(If you think you may have received the wrong or a potentially defective product, you can also request an RMA, return and we will refund in full if the item is determined to be incorrect (not matching the order placed online) or defective upon return inspection.
Please note that antonline does not cross-ship any items, even if you feel you may have ordered incorrectly or received the wrong product.

Basic Return Policy

Unless otherwise stated in this specific policy - below - you have 30 days from the date of your delivery to request a valid RMA from our website, then 5 business days from approval to return the item and post tracking (Drop off the package at the post office or schedule a pickup with the US Postal Service or ship to the returns warehouse via Fedex or UPS).

If you are ineligible for an RMA, contact the manufacturer directly or check any applicable warranty you might have for other potential return opportunities. Note that we have no control over the manufacturer or other entities related to your product, and cannot guarantee their return policies. See the Manufacturer Contact List at the bottom of this page.

Except as provided for verified defective products (See Special Returns Policy for Defective Products below), you will be responsible for all shipping charges for returns sent to our Returns Warehouse.

Upon our acceptance of the merchandise in new condition and in strict conformance with the basic criteria and basic returns policy listed above, the purchase price will be credited to the purchaser for the original purchase.

Many of the items we sell have Special Return Policies. See the appropriate policy below to see if items you purchase are affected.

The risk of loss for the product being returned shall be with you at all times during the shipment of such product to the returns center and with respect to any shipments from the returns center back to you, the original distributor or manufacturer, or any buyer through the liquidation process. Title to the product being returned will remain with you at all times and transfer from you to the original distributor, or a third party in the case of a liquidation of the return, only upon receipt of the products by such distributors or buyers.

Potentially Defective Products

All Potentially Defective Product claims should be sent directly to the manufacturer or warranty provider for evaluation and warranty support. Refer to the products' individual warranty policy for further information. See the Manufacturer's Contact List at the bottom of this page.

Please note that 99% of initially diagnosed "Potentially Defective Products" turn out to be configuration or compatibility issues and are not "Defective Products".

Non-Returnable Products

The following products are not accepted for return once opened and used. Customers must direct repair or replacement inquiries to the manufacturers' authorized service centers for these products: personal hygiene products that have risk of disease transmission if resold; consumables, TVs and monitors, computer components, laser printers, scanners, fax and other devices with delicate optics. To locate a service center near you, please refer to your product manual. Unused software may be returned, if unopened, with some exceptions. Defective software, games, CDs and DVDs may be returned for the same title only. Software programs, consumables and media are not returnable to antonline under any circumstance and must be returned to the manufacturer. Stereo and electronic equipment should be bench-tested prior to installation (units that have been installed, scratched, or abused will not be accepted for return or credit). Bulk Purchases (10 + items) are not eligible for return. Returned products are subject to shipping and restocking charges, or refund rejection as listed below.

RMA Fee Schedule for Returned Items

Products returned to antonline in resalable as new condition are subject to a 20% restock fee + shipping costs. Products returned Used, Opened in user damaged condition or without all packaging and item materials and manuals that cannot be resold as new or open box are refused and returned to customer. If a customer refuses delivery of returned item, the item is disposed of by the shipping carrier, but the customer is still charged for that item and will not be entitled to a refund.


International Orders are not eligible for return.